You may or may not have come across the roller coaster of feelings when you go through the process of searching and securing a placement. Whether you have or you haven't, I hope to provide you with support to help you keep going, based on my experience as a placement student.
During my placement search, I went from being excited because I had found an amazing role, to feeling lost not knowing how to proceed, nervous during interviews and assessment centres, to demotivated after another rejection. And back to the beginning, until I finally secured my placement. It's normal, most people go through that. However, as bad as it may seem, I had never learnt as much as during that time. Without the determination and resilience I gained, I wouldn't have secured my current placement.
Let's breakdown the placement search then…
1. I don't know where to start. 😕
Initially, you might feel unsure where to look for roles and how to apply, so did I. The first thing I learnt was tip number 1: Organise and plan your placement search.
I started by looking for roles on Aston Futures. You can do this for other career search sites as well, but Aston Futures has plenty of roles and is excellent to find those that fit you. I then created a table of the roles I wanted to apply to and their details. The next step was to set a realistic time on my calendar to submit those applications and ensure I wouldn't miss a deadline.
Okay, maybe you're thinking, "I can do that, that's not hard. But how do I start a cover letter, and what should and shouldn't I include in my CV?" I agree, the hard part is actually the next stage – applying. Nevertheless, I found that I could improve my applications by planning. I realised that grouping opportunities by sector or role helped me write better cover letters and adapt my CV quicker.
Now that we're talking about CVs and cover letters, tip number 2 is: Use the resources and tools available. I used the CV and cover letter guides and templates on the Careers and Placements website and also sought support from my Placement Coordinator (you can book appointments with them on Aston Futures!) Over time and with some practice, I got used to writing professional cover letters and CVs and no longer needed them checked.
2. Now… how do I prepare for an interview? 😲
Interviews and assessment centres can be daunting, nerve-racking and sometimes intimidating. The good thing is that they are mostly done online at the moment, which takes off some pressure.
I learned to identify the questions that I could get asked and plan my best answer in a sticky note. Remember that it's a sticky note, not a piece of A4 paper – the shorter the better. You'll gradually see which questions are asked on every interview, and which are asked for particular roles. I used the job description to prepare questions, and I also took note of some I found in the Careers and Placements Interview Questionbank.
3. I can't handle another rejection. 😩
I received countless rejections. I'm not going to lie… I often felt discouraged the first day or two. The reason I insisted and kept applying was because I really wanted a placement and knew I could secure one. That's tip number 3: Don't lose hope. I was determined to do a placement in my third year of university because I was aware of how good of an experience it could be, and how much I could benefit from it.
The important thing about rejections is what you take from them. I always tried to ask for feedback. It helped me understand what companies were looking for, identify what I was lacking and how I could improve, as well as where I stood out; to tailor my application more effectively. That's right, you learn from your mistakes, but you have to know what they are to change them.
If you're struggling to secure a placement and don't know where else to apply to, you can always try networking. Here's my 4th tip: Attend employer events (webinars now) on Aston Futures. These will give you an opportunity to meet employers, understand what they do and be aware of their current and future open positions. It's the perfect time to express your interest for a placement and network with the employer – during the event and after, on LinkedIn. This can really increase your chance of being offered an interview.
4. FINALLY! I SECURED A PLACEMENT!! 😁
At this point, of course I felt happy, but felt even more successful because I managed to secure a placement during the current uncertain times, and after several rejections and cancellations. You might not do amazing in your first recruitment process, I certainly didn't. But here's when you realise (and you probably noticed throughout the blog):
Practice makes perfect
There's no such thing as perfection. You know what I mean… you get better and better until you're so good, employers want YOU. Plus, along the way, you've learned to keep going despite the hard times.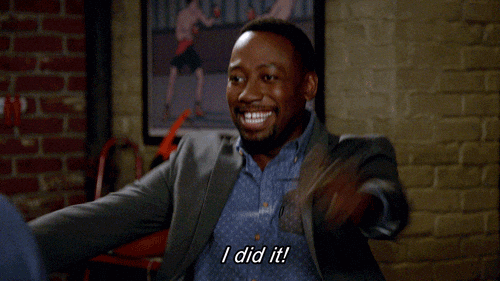 ---
I hope to have given you some advice on how to cope with the difficult times during your placement search, based on my experience applying to placements in 2020. Best of luck searching and securing your placement!